Our experts have performed numerous repairs at a much lower cost than replacement, in Seattle, Tacoma, Bellevue, Kirkland, Bothell, Stanwood, Edmonds, Mountlake Terrace, Lynnwood, Everett, Bremerton, Poulsbo, and many counties from Kitsap county to Whatcom, Skagit, Snohomish, King, Pierce, Thurston, Mason, Jefferson, Clallam, Grays Harbor, to Chelan, and everywhere inbetween.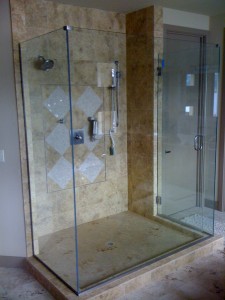 An example of one of many jobs undertaken by QC:   In this shower during a clean and seal estimate a hairline crack in the floor grout was found, which caused a significant water damage. Previous work was done long ago by another company. After identifying the problem, a solution was presented! By redoing the shower with a custom tile, and a limestone slab for the pan.
Because we met all MIA and TCNA specifications for our installation, we were able to give a five year unlimited, full protection warranty for staining, craftsmanship, and materials.